Multiplier event in Malta was organised on the 15th of July 2022. The activity was open to the public, with the focus on the main target group – 15-20 year old secondary students and teachers. The goal of the event was to get participants acquainted with AI and innovative technological tools related to the intellectual output of the project.
The event took place at the newly inaugurated Resource Center at MCAST. Dissemination of the event was organized through the local media and the Ministry of Education and Employment (MEDE). It was planned to have 30 participants. Unfortunately, due to the timing coinciding during the summer holidays, the participation was limited to 11 participants. However, the attendees included teachers, policy makers and representatives from local partners.
>> AGENDA <<
8:30 9:00 Registration to Event – Welcome Coffee
9:00 9:20 Director Keynote – Project Overview
9:20 10:00 Discussion of Resource Pack and Topics Available
10:00 10:15 Coffee break
10:15 10:45 Panel Discussion – The Applicability of IT in the Classroom
10:45 11:30 Workshop
11:30 12:00 Feedback -– Questions by Participants
12:00 13:00 Lunch / Networking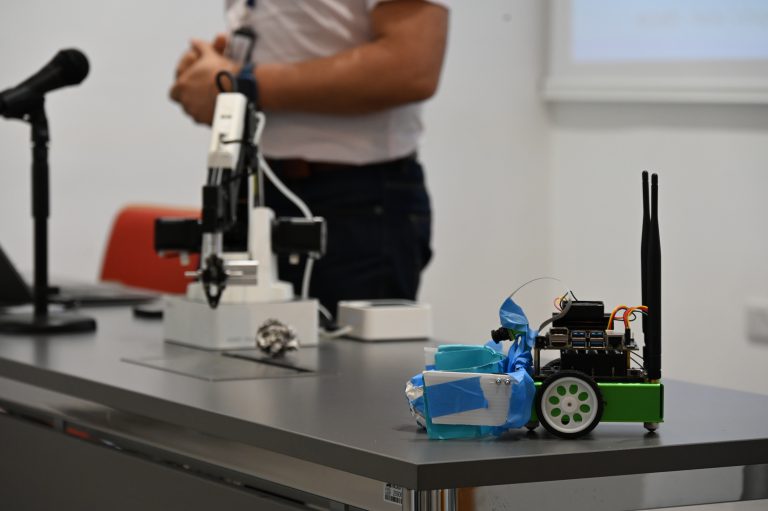 The event focused on:
1) demonstrating the lesson materials for the Introduction to Artificial Intelligence module;
2) showing the competencies that learners gain;
3) sharing good practice examples and experience from the implementation of the pilot course. Hands-on workshops were organised, where the participants were able to familiarize themselves with the contents of the module, to try out the applications and the hardware and to accomplish module-related tasks provided by the organizers.
The outcome of the event is wider publicity for the innovation in the VET sector, the integration of lesson materials into the learning activities of other educational institutions and a higher interest in ICT-related programmes at MCAST in the learners' group.